Our Home
Welcome to Villa Verde, our ecologically friendly seaside home near Athens. We hope you'll like what you see here and that you'll want visit Nea Makri to spend some time with us.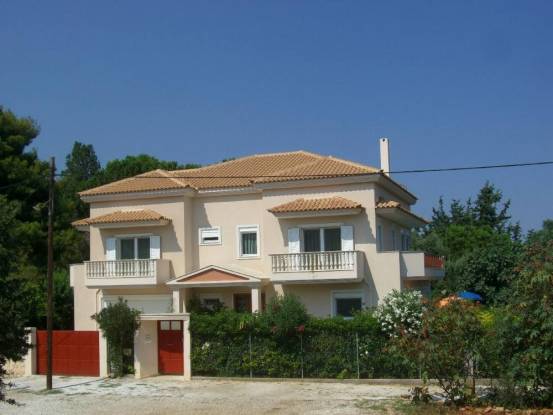 If you're planning a relaxing holiday or short break based on the coast near Athens, we hope you'll find what your looking for here at Villa Verde. You might have in mind an Athens city break. Why not consider basing yourselves an hour's comfortable coach ride away in the green and pleasant seaside town that's Nea Makri? We call it "Athens with a breath of fresh air".
On these pages you'll find information about our town, our home, and us. The Local Attractions page includes many links to sites with additional information. We've also included a Links page that we hope will help visitors to appreciate Greece in a wider sense.
We designed and built Villa Verde in 2008-09, with some help from local architects and builders. The house is built to very high environmental standards. Geothermal energy provides most of our heating and cooling needs. Those needs are relatively small because the house is extremely well insulated. Very large solar panels provide hot water for personal use with geothermal back up if there's no sun. Water from a well is used for the garden.
We live upstairs whilst on the ground floor we have four self-contained guest studios. Two of those can be linked for family use.
We were very proud to receive this TripAdvisor certificate through the post. Please see our Guests' Comments page for more details.
Who Are We?
Silvia is from the Ukraine and Chris from England. We came to Greece for work and business reasons in 1996. We recently decided to stop work and to move a short distance away from the hustle and bustle of the Athens metropolis.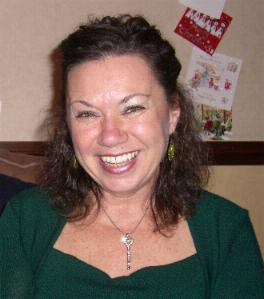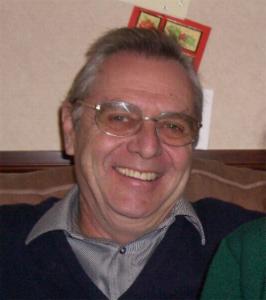 We have travelled quite extensively around Greece, with and without friends and family, so we've got to know the country quite well. We are both very good with the Greek language.
We very much look forward to welcoming guests to share our ecologically friendly villa and its garden.
What Can We Offer You?
We can offer you:
| | |
| --- | --- |
| | A friendly base for a seaside holiday or a short break, with easy access to the city of Athens and to the islands of the Aegean Sea . |
| | A chance to relax without worrying about your carbon footprint by enjoying the comfortable room temperatures and hot water that are provided by our eco friendly renewable energy systems. |
| | Continental breakfast (at extra cost) |
| | Subject to other commitments, transfers for up to three people to and from Athens International Airport, Rafina port, or Pallini metro and railway station (at extra cost for short stays). |
| | Help in dealing with the locals for things like car and bicycle hire, ferry tickets or shopping. |
| | Simple interpretation and translation between the Greek, English, Russian and Ukrainian languages. |
| | Ideas on where else to go in Greece to best satisfy your own personal objectives, and advice on how to get there and back. |
| | Help in putting together a detailed itinerary to make the most of your visit, for example trips to famous and fascinating ancient sites or time on the islands. Under the right circumstances, Chris could even accompany our guests on some trips. |
| | Out of the peak season when the weather is pretty much guaranteed, we post local weather forecasts to help our guests plan their time. |
| | So that you don't waste journeys, we make phone calls to confirm opening times of archaeological sites and museums and to make sure that they are unaffected by manpower shortages or strikes. |
If there are marches or demonstrations in Athens, we can explain how you can still enjoy most of the city and its attractions without getting close to those problems. Serious problems only occur rarely and they are confined to very small areas, away from most places that are of interest to visitors.

Please see the Sample Itinerary page for an example of the kind of trip around Greece that we can help you to arrange.

Weather

These average Athens weather conditions are taken with thanks from the Weather2Travel web site.

There is a good short term local weather forecast at the Greek Meteo site

Contact

If you want to know more or to discuss a possible stay, please get in touch with us. We will be happy to telephone you if you would like to let us have your number by email, phone, SMS or post

(land lines only please).

Chris and Silvia Feather

Villa Verde

Parodos Papapoliti (Pisidias)

Nea Makri

190 05 Attica

Greece

Telephone

+30 22940 95512

Mobile +30 693

2 655065

Email chris@verdevilla.gr, silvia@verdevilla.gr or featherc@hotmail.co.uk

You'll also find "Verde Villa Nea Makri" on Facebook